Divine Friendship Kirtan with Polestar Gardens
Join Michael, Bernadette, Rich and other local area musicians for an evening of devotional kirtan!
About Polestar Gardens
We are a spiritual community on the Big Island of Hawaii and offer year-round, hands-on experiences in cooperative living inspired by the universal raja yoga teachings of Paramhansa Yogananda.
We have an energizing life-style of daily meditation, yoga, karma yoga (service projects), sustainable organic gardening, outdoor-adventure opportunities…AND daily sacred music!
From kirtan, to full choir, to chants and chanting, to mantra, to ensemble, to cherished folk, to campfire favorites…people of all spiritual traditions and cultures are always invited to sing and play along with us.
Please check out our website for more info: www.polestargardens.org or www.polestarmusic.net
---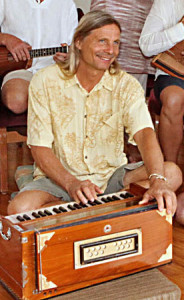 Michael
Michael Gornik co-founded and currently co-directs Polestar Gardens along with his wife, Ann. Michael and Ann bring with them over 36 years of experience in intentional community, sustainable living, education, raja yoga, meditation, music and more.
Michael has a rich history as a leader, community planner, builder, educator, athletic coach and musician. He has worked directly throughout the years with public, private and charter schools in creating apprenticeships and mentoring programs.
Michael inspires Polestar with his cheerful even-mindedness, indomitable joie-de-vivre and perhaps most of all, with his inspired music! He has been a musician all of his life, and plays from memory literally thousands of songs from many genres and cultures. His great love for the last 36 years has been sacred music and kirtan. Through this and along with inspirational advntures, service projects, wilderness trips, sports and performance art programs, he has provided students of all ages with the opportunity for life-long educational expansion and personal growth.
---

Bernadette
Bernadette Sabath is an actress, performance artist, stand-up comedian, producer, director and professional clown who has performed throughout Europe, the United States and Australia since her training at Dell'Arte International: Theatre Performance Training & Research on California's Northern Coast in the 70s.
Bernadette started singing on the streets of Europe while busking with the band Available Jelly. It was performing for crowds of strangers where she made the connection between spirit, music, voice and movement. She enjoys writing and performing music for theatrical performances as well. She wrote the score and performed the music for her production of a Gabriel Garcia Marquez adaptation of "The Very Old Man with Enormous Wings".
Bernadette deeply enjoys working directly with and mentoring young people. She taught acting for young adults and movement for actors in Sydney for 3 years and is currently Polestar's main contact with Polestar guests and apprentices. A dedicated meditator since the age of 16, Bernadette is also a meditation instructor at Polestar, has mastered the riding mower, and frequently keeps everyone in "in stitches" with her clowning antics.
---
Rich
Rich Mills is the personification of the "aloha" spirit. You may very well catch him walking barefoot in Hawaii, carrying his ukulele and entrancing visitors to the island with stories and favorite sing-alongs.
Born and raised in Millville, Pennsylvania, Rich grew up helping his father build and operate a saw mill. He went on to develop his interests in community building and organic farming and managed a chicken farm with over 800 free-range chickens! Rich is a fine craftsman, builder, mechanic, folk dancer and musician, and has built and maintained his own musical instruments. His ukulele classes are well attended and much appreciated by Polestar guests and visitors, many of whom have gone on to a sustained interest in music.
A highly skilled tradesman, Rich is in charge of Polestar's critical sustainable infrastructure, including the off-grid water catchment and purification and solar power systems. He also runs and maintains the backhoe, tractors, mowers and other important farm equipment—all the while overseeing Polestar's orchards.
Rich loves to meet people, works with students, guests and apprentices daily, and generally spread his aloha wherever he can.